Fujikura 80S universal fusion splicer
Product code: 1000823
Check availability
Discontinued
Add item to cart. Our specialist will coordinate with you the complete set, tell you the price and delivery time.
Brief description of Fujikura 80S
Fujikura 80S is a top model fiber optic splicer with core alignment, Japanese company Fujikura. Model 80S is a continuation of the famous line of fusion splicers FSM-60S and FSM-50S. Like its predecessors, Fujikura 80S splices any type of fiber with minimal losses even in harsh conditions (low temperature, extreme heat, humidity, wind), while the splicer is unpretentious and very reliable in operation. Service life, even in the most severe conditions, exceeds 10 years. Very cheap consumables: a pair of electrodes ELCT2-20A, designed for 5000 splices, costs only $60 (about 1 cent per splice).
But the main difference from all existing fusion splicers is record splicing time (7 s) and heat shrinkage (14 s). Add to that a fully automated wind cover, heat shrink oven and automatic fiber presses, and even more resistance to shocks, bumps and drops - withstands being dropped on any edge, including the wind cover.
When buying a fusion splicer, it can be carried out education (theory + practice) with the issuance of a personal certificate. Please also note that an authorized Fujikura service center operates on the basis of Tehencom company in Kyiv.
Main characteristics:
Precise alignment to the optical fiber core (by PAS technology).
Average splicing losses: 0.02 dB (single mode), 0.01 dB (multimode).
Splicing time: 7 s. Heat shrink time: 14 s. Electrode resource: 5000.
The number of splicing/heat shrink cycles from a standard Li-ion battery: 200.
Automatic: wind cover, heater, fiber clamps.
Arc power autotuning. Built-in video instruction.
Simultaneous viewing of the splicing spot along the X and Y axes.
Chip length: from 5 to 16 mm. Ability to splice connectors SC, LC, etc.
Russified menu. Free firmware update via the Internet.
Operating temperature range: from -10°С to +50°С. Weight with battery: 2.7 kg.
The highest protection against dust, moisture, shock and drops.
3 years of a full factory warranty with the replacement of the device for the period of repair.
Certificate of Conformity UkrSEPRO: UA1.066.0161485-13 dated July 24, 2013.
Winner of competition: "Best innovative solutions" at the EEBC and expoTEL exhibitions.
Out of production. Recommended replacement: Fujikura 86S.
In addition, Fujikura releases a simpler model of the device with the alignment of optical fibers with active V-grooves: Fujikura 36S. The 36S model has a simpler heat shrink oven and the optical focus of the fiber recognition system is fixed on their core, so the 36S model is structurally simpler (it has 4 motors, not 7 as in 80S). As a result, the 36S is smaller, lighter and costs half the price of the flagship 80S.
Need a splicing machine for city-wide networks? see model Fujikura 36S.
Want to see the full list? Go to page optical fiber splicers.
Difficult to decide on a model? See article: optical fiber alignment methods.
Video review of Fujikura 80S
Watch this short corporate video to see the Fujikura 80S in action and get a better understanding of its features and design features that give you unique advantages when splicing any optical fiber.
Model range of Fujikura fusion splicers 2017
This video review presents the 2017 lineup of Fujikura fiber optic fusion splicers. Given the needs of our market, for this review we have selected the four most popular models that are always in stock in our warehouse in Kyiv. These are the models: 12S, 22S, 62S and 80S. We will tell you about the main features of these devices and what tasks each of the models is intended for.
Detailed description of Fujikura 80S
Model Fujikura 80S is the next generation of the most popular device FSM-60S, which is the standard in the class of automatic fusion splicers for optics in terms of versatility, reliability, environmental protection, speed, size and weight. In addition, two more low-cost fiber fusion splicers were presented: the medium model Fujikura 19S and junior compact model Fujikura 12S.
The main difference of the new model of the fusion splicer Fujikura 80S from the previous model FSM-60S is the full automation of routine processes, which made it possible to realize record splicing time (7 seconds) and heat shrinkage (14 seconds). None of the similar fusion splicers produced in the world can be compared with Fujikura 80S in ease of use, speed and quality of splicing. To simplify the work of the installer in the new model Fujikura 80S, the operation of the windproof cover is automated (opens and closes on its own), a heat shrink heater (opens and closes by itself) and fiber clamps (opens by itself after splicing is completed). The high speed of the 80S eliminates the need for an additional oven for heat shrinking KDZS, which is used in other, older devices.
The Fujikura 80S optical fiber fusion splicer has 100 pre-configured splicing modes and 30 heat shrink modes, the parameters of which can be changed as needed. Model 80S is excellent for all types of networks: backbone, metro, access networks, PON/FTTx and SCS, and also splices all types of fibers used: single mode SM (G.652/657), multimode MM (G.651), DSF (G.653), NZDSF (G.655).
In Ukraine and the CIS, fusion splicers of the Japanese company Fujikura have been widely used since 1989 and have proven to be extremely reliable: they work for years, cook any type of fiber in severe weather conditions, not afraid of shaking during transportation and accidental drops, and in a critical situation they can be easily and quickly serviced in authorized service center in Kyiv. But Fujikura does not stop there and continues to improve and improve equipment. The new Fujikura 80S is designed to withstand drops directly onto the windshield and shrink heater like no other device can. Also Fujikura 80S has high protection against dust and moisture and provides operation in a wide temperature range: from -10°С to +50°С.
For the convenience of users, the menu of the Fujikura 80S fusion splicer has been translated into Russian. A detailed user manual is supplied with each machine, in addition, the fusion splicer itself contains a video instruction that can be viewed on the high-resolution color screen of the machine.
The Fujikura 80S fiber optic splicer is an opportunity to work with a smile, make money easily, and maintain it simply.
Splicing modes
When working with the Fujikura 80S splicer, you can select the fiber splicing mode that best suits your style of work: from full automatic, which ensures very fast splicing, to manual confirmation of each splicing step using the "SET" button.
Full auto mode well suited for experienced users when working with a large number of fibers. Manual mode well suited for beginners, as well as splices that are critical to quality (for example, on backbone lines) where it is better not to rush and visually check each stage of splicing (fiber cleanliness, cleavage angles, arc uniformity, core uniformity after splicing).
This video shows both Fujikura 80S operating modes: "Full automatic" and "Pause before splicing".
Fiber cleave length from 5 to 16 mm
The Fujikura 80S features miniature fiber landing pads that support cleave lengths from 5 mm to 16 mm. A 13-16 mm cleave length is typically used with standard 60 mm protection sleeves, a 10-12 mm cleave length is used with 40 mm protection sleeves, and a minimum 5 mm cleave length is required to work with the new micro protection sleeves (20 mm and 30 mm) as well as for terminating fibers with Fujikura FuseConnect splicable connectors.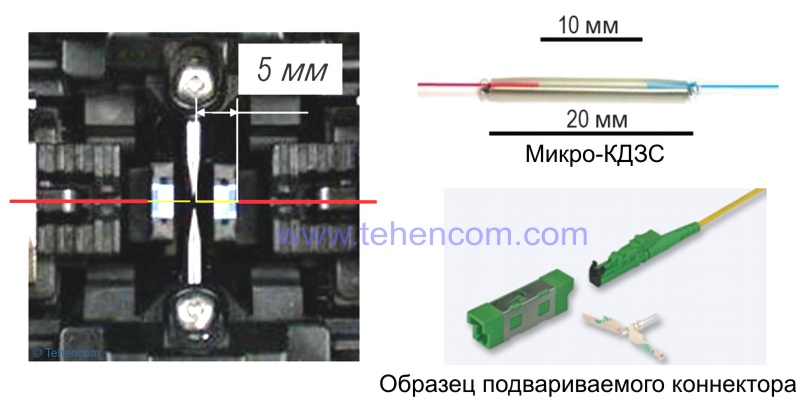 Innovative heater design
The Fujikura 80S optical fiber splicer combines a record splicing time of 7 seconds with a record heat shrink time of 14 seconds. None of the splicers produced in the world can achieve such speed. In order to make such fast shrinking possible, the Fujikura 80S has developed a completely new heater.
In a conventional heater, a heat-shrinkable sleeve, together with the fiber, is placed in the heater tray, the lid is closed manually and the sleeve shrinks, after which it must be manually removed. The new model 80S heater itself automatically opens and closes when loading the protection sleeve, and after the end of heat shrinkage and cooling, it automatically opens. It's convenient and fast. At the same time, during heating, the protection sleeve is not located in the tray, but is tightly clamped by two heating elements, as shown in the figure. This design of the heater provides several important advantages: fast and uniform heat shrinkage of the protection sleeve (because the sleeve is tightly attached to the heating plates), stable operation at low temperatures and strong winds (this is important, since rare models of other splicing machines can properly shrink protection sleeve when it is cold or windy).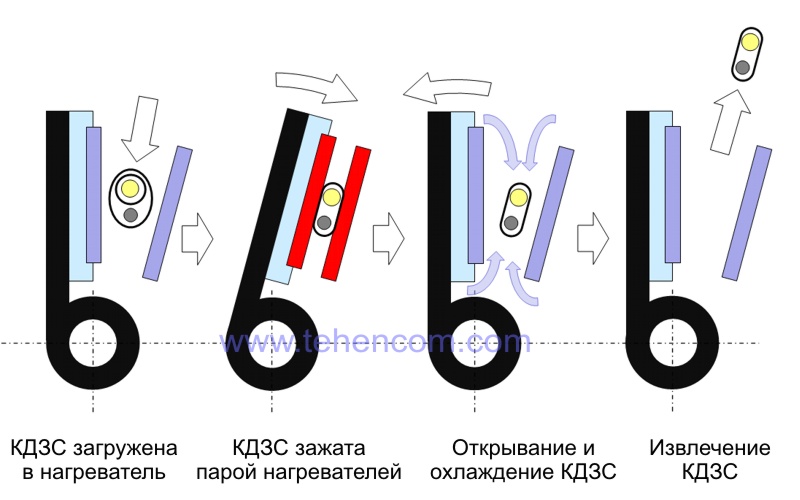 Low cost of operation
With intensive work on fiber optic splicing, the availability and cost of consumables (electrodes) is important. The new Fujikura 80S model uses an improved arc power auto-tuning algorithm and now it is possible to make more than 2500 splices on one pair of electrodes as on FSM-60S, a 5000 splices. While the electrodes themselves have not changed – standard electrodes are used ELCT2-20A. They are constantly in stock, a pair costs $60, which, in terms of the price of one splice, is about 1 cent per splice.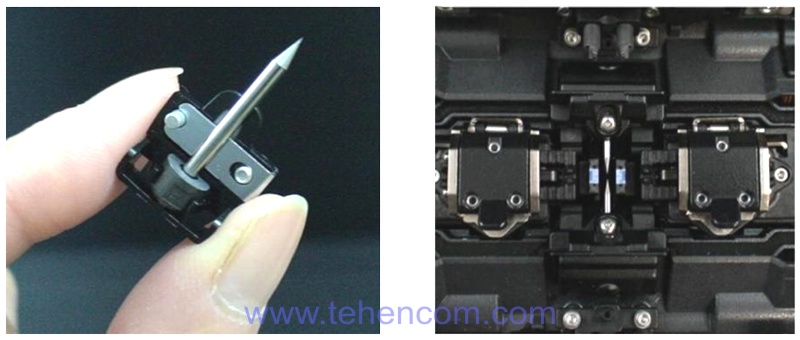 High-capacity Li-ion battery
Of the characteristics that Fujikura 80S pleases with, it is worth noting a high-quality Li-ion battery BTR-09 increased capacity. When this battery is installed in the splicer, the Fujikura 80S can perform about 200 splices with heat shrink. There is an LED indicator on the battery case, with which you can quickly check the level of remaining charge.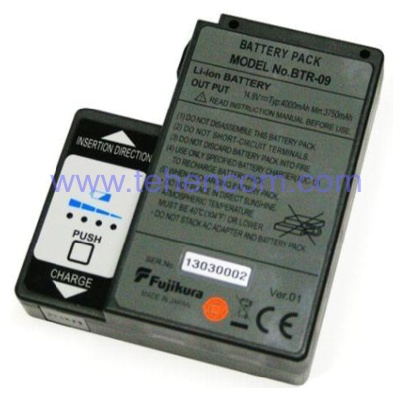 Innovative case design
The Fujikura 80S flight case helps to protect the machine and accessories from damage, as well as organize the splicing workspace efficiently.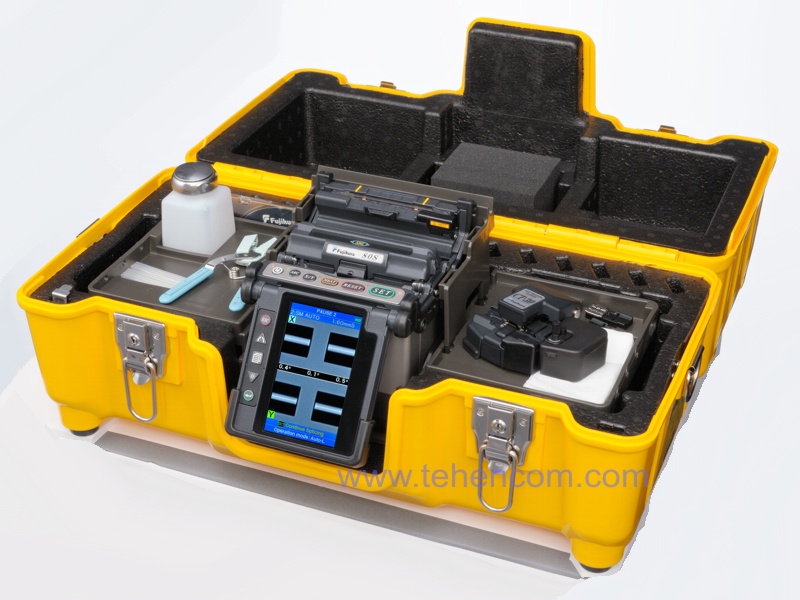 For ease of installation, the standard delivery of each Fujikura 80S device includes a special mounting table of a new design, on which during operation you can place the splicing machine and additional tools: cleaver, stripper, protection sleeves, etc. The removable mounting table can be used separately from the transport case or directly inside the suitcase (without taking it out). When transporting, the table simply fits inside the case.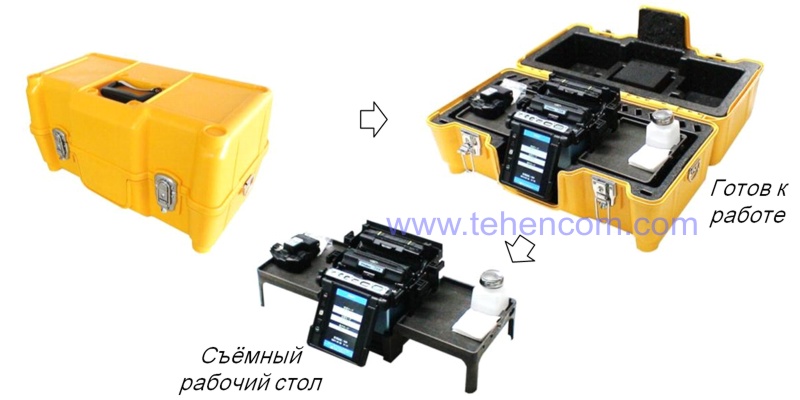 Compact and light weight
For comfortable work, the optimal dimensions of the fusion splicer and its weight are very important. Fujikura has kept the size of the 80S to a reasonable minimum. The overall dimensions of the Fujikura 80S splicer are only 146 x 159 x 150 mm. A further reduction in the size of the apparatus would lead to a reduction in the size of the screen and, as a result, to a deterioration in the convenience of viewing the image of the fibers and the splicing site. Splicer weight with power supply ADC-18 from a 220 V network is 2.5 kg, and with a battery BTR-09 only 2.7 kg.
Fujikura 80S fusion splicer awards
During the main events of the telecommunications market of Ukraine: exhibitions EEBC 2013 and expoTEL 2013, the Tehencom company took an active part in the demonstration of new products of control and measuring equipment for all types of modern information transmission networks.
According to the results of the competition best innovative products exhibitions EEBC 2013 and expoTEL 2013, two models presented by Tehencom were awarded:
- Automatic splicer for optical fiber Fujikura 80S
- Compact touch reflectometer EXFO MaxTester 700B series
Specifications of Fujikura 80S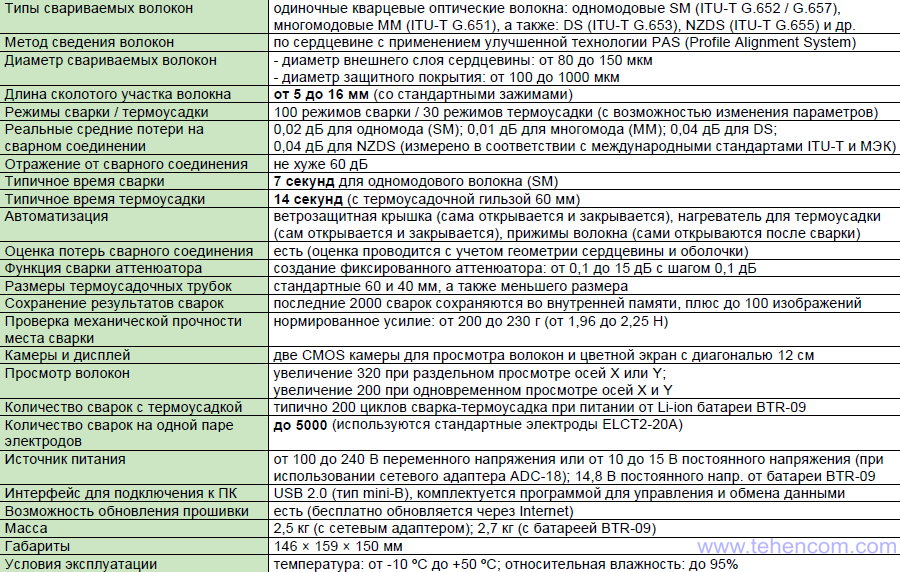 Three options for the Fujikura 80S package
In connection with the addition of a Bluetooth wireless interface to the Fujikura 80S fusion splicer, a "+" sign has been added to the model name. Therefore, in all trim levels, instead of the old name "80S", "80S+" is indicated.
Set Fujikura 80S+ "Kit-A" Plus (the most complete set):
- Fujikura 80S+ fusion splicer
- automatic cleaver CT50
- wall adapter/charger adapter ADC-18
- accumulator battery BTR-09
- battery charging cord DCC-18
- power cord for connecting to a car cigarette lighter DCC-12
- power cord for connecting to an external battery (with alligator clips)DCC-13
- additional holders for pigtails in free buffer CLAMP-S70D
- spare electrodes (2 pairs) ELCT2-20A
- ACC-15 power cord
- CC-30 hard case
- USB-01 USB cable
- SL-01 sling tool
- AP-01 alcohol dispenser
- SD-01 screwdriver
- CD with Data Connection software and training videos
- quick reference guide
- warranty card for 3 years warranty (2 years factory warranty + 1 year from Tehencom)
Set Fujikura 80S+ "Kit-A" Standard (simpler cleaver):
- Fujikura 80S+ fusion splicer
- automatic cleaver CT08 with an additional platform for installing fibers AD-10-M24
- wall adapter/charger adapter ADC-18
- accumulator battery BTR-09
- battery charging cord DCC-18
- spare electrodes (1 pair) ELCT2-20A
- ACC-15 power cord
- CC-30 hard case
- USB-01 USB cable
- SL-01 sling tool
- AP-01 alcohol dispenser
- SD-01 screwdriver
- CD with Data Connection software and training videos
- quick reference guide
- warranty card for 3 years warranty (2 years factory warranty + 1 year from Tehencom)
Set Fujikura 80S+ Standard (without cleaver):
- Fujikura 80S+ fusion splicer
- mains/charger adapter ADC-18
- accumulator battery BTR-09
- battery charging cord DCC-18
- spare electrodes (1 pair) ELCT2-20A
- ACC-15 power cord
- CC-30 hard case
- USB-01 USB cable
- SL-01 sling tool
- AP-01 alcohol dispenser
- SD-01 screwdriver
- CD with Data Connection software and training videos
- quick reference guide
- warranty card for 3 years warranty (2 years factory warranty + 1 year from Tehencom)
Options and accessories
Removable holders of Fujikura FH-60 series for different types of fiber buffer:
- FH-60-250 (for bare fiber 0.25 mm)
- FH-60-900 (for pigtails with 0.9 mm sheath)
- FH-60-DC250 (for 0.25 mm bare fiber with DropCable jacket)
- FH-FC-20 (for patch cords in 2 mm sheath)
- FH-FC-30 (for patch cords in 3 mm sheath)
- FH-60-LT900 (for pigtails in free buffer 0.9 mm)