Tektronix AFG1000 Standard Function and Signal Generator Series up to 60 MHz
Product code: 1000706
On order
Add item to cart. Our specialist will coordinate with you the complete set, tell you the price and delivery time.
SHORT DESCRIPTION
A Series of Arbitrary Waveform Generators and Standard Functions Tektronix AFG1000 provides excellent value for money. Both models of the series (AFG1022 and AFG1062) contain two channels for signal generation. The maximum sine wave frequency reaches 25 MHz for the AFG1022 and 60 MHz for the AFG1062. Four modes of operation (linear, sweep, burst and modulation), access to a built-in set of 50 commonly used signals, and a 6-bit frequency counter with a frequency range of up to 200 MHz will help you effectively solve basic problems in the development and testing of various devices.
It should be noted that due to the low price, a large set of functions and compatibility with TekSmartLab, Tektronix AFG1000 series generators are great for training. You can download a full description of all the characteristics below on this page in the section Documentation.
Main characteristics:
25 MHz, 125 MSa/s, 2 channels, -10 to +10 V (model AFG1022).
60 MHz, 300 MSa/s, 2 channels, -10 to +10 V (model AFG1062).
Permission: 14 pages. Memory: 8K points (model AFG1022) and 1M points (model AFG1062). Types of modulation: AM, FM, FM, PWM, ASK, FSK, PSK.
50 standard signals. Built-in 6-digit frequency counter (up to 200 MHz).
Operating modes: linear, sweep, burst and modulation mode.
Areas of use: research in the field of electrical engineering, electronics and telecommunications, simulation of sensors, functional testing, training, etc.
Intuitive interface. Arbitrary Waveform Software ArbExpress. Compatible with TekSmartLab facilitates the learning process.
10.0 cm screen (480 x 320 resolution). Interfaces: USB.
Weight: 3.4 kg. Dimensions: 230 x 110 x 306 mm. Working temperature: from 0°С to +40°С.
Cheap and functional device for basic tasks and training
Need more functionality? Watch the series Tektronix AFG31000.
Need even more functionality? Watch the series Tektronix AWG4000.
Need oscilloscope with built-in generator? Watch the series Tektronix MDO3000.
Want to compare all generators? See main page on function generators.
Tektronix AFG1000 features and functionality
High quality sine waveforms are generated in the frequency range from 1 µHz to 25 MHz (model AFG1022) or up to 60 MHz (model AFG1062) based on an internal highly stable reference oscillator with drift as low as 0.0001%. This ensures good signal purity in the frequency domain. The amplitude of the output signals can vary from 1 mV to 10 V (peak-peak) in 1 mV steps (using a 14-bit DAC). Such good amplitude characteristics are maintained over the entire frequency range.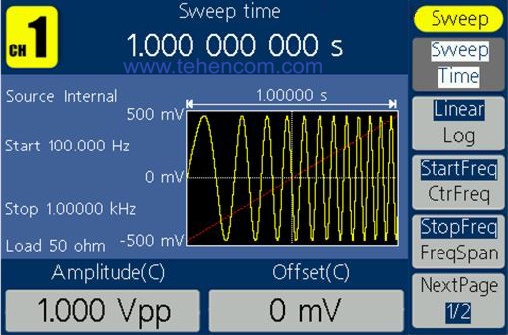 Ease of use of Tektronix AFG1000 generators
The Tektronix AFG1000 signal generators feature a 10 cm color LCD display that clearly displays all settings and parameters in text and graphic format, allowing you to focus on the job at hand. For quick access to frequently used functions and settings, special keys and a rotary knob on the front of the generator are used. Built-in 64 MB non-volatile memory, along with USB external storage devices, provide unlimited storage options for user-created waveforms.
The figure below shows the elements of the Tektronix AFG1000 Series On-Screen Display.
Tektronix AFG1000 Output Waveform Selection
The AFG1022 and AFG1062 can generate several standard waveforms (sine, square, sawtooth, pulse, noise, etc.). In addition, these generators have the ability to generate user-specified arbitrary signals. You can create, edit and store your own waveforms in the instrument's memory.
You can also generate modulated signals using the Mod panel button and then the Mod softkey menu. The table below shows combinations of modulation types and output waveforms. Please note that modulation, sweep and burst modes are only available on channel 1 of the AFG1022 and AFG1062.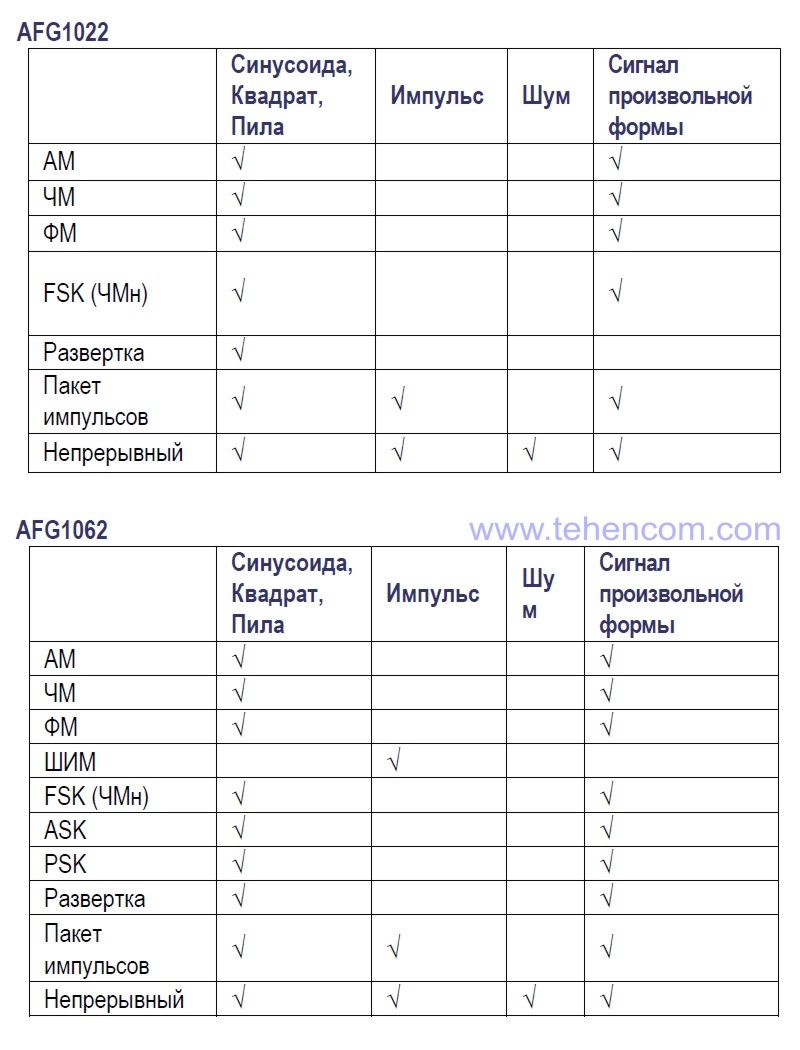 Other available signals in Tektronix AFG1000 generators
Below are examples of some of the other waveform types available in the Tektronix AFG1022 and AFG1062 built-in Waveform menu. The figure shows six types of waveforms: Sinc, constant voltage, Lorentz, Gaussian, exponent rise and exponent fall.