Welding machine for access networks, PON/FTTx and SCS Fujikura 21S
Product code: 1000825
Check availability
Discontinued
Add item to cart. Our specialist will coordinate with you the complete set, tell you the price and delivery time.
BRIEF DESCRIPTION OF FUJIKURA 21S FIBER WELDING MACHINE
Fujikura 21S is the newest compact splicer for access networks, PON/FTTx, SCS and local fiber optic lines, which was introduced by the Japanese company Fujikura at the beginning of 2015. In terms of price and features, the Fujikura 21S occupies an intermediate position between a miniature and an economical device. 12S and older, fully automated model 80S. The Fujikura 21S is very handy and compact (weight 1.1 kg.). It is slightly larger and slightly heavier than the economy device. 12S (whose mass is only 776 grams), but contains a more powerful battery, which is enough for 200 heat shrink welds. But the main feature of the new Fujikura 21S is the method of convergence and alignment of optical fibers. In the 21S model, fiber alignment is performed using active (moving) V-grooves, which provides excellent performance: the average splicing loss in real conditions is 0.03 dB for single-mode fiber and 0.01 dB for multi-mode.
Through innovation and many years of experience in the development of welding machines, the new model Fujikura 21S welds any type of fiber (including bend-insensitive G.657) with high accuracy and minimal losses even in harsh conditions (low temperature, extreme heat, humidity, wind), while the welder is reliable and unpretentious in operation. The service life of the Fujikura 21S welding machine, even in the most severe conditions, exceeds 10 years. Authorized device service located in Kyiv. Owners of the 21S model will be pleased with very cheap consumables: a pair of electrodes ELCT2-12, designed for 5000 welds, costs only $60 (about 1 cent per weld).
Main characteristics:
Alignment with active (moving) V-grooves.
Average welding losses: 0.03 dB (single mode), 0.01 dB (multimode).
Welding time: 7 s. Heat shrink time: 30 s. Electrode resource: 5000.
The number of welding / heat shrink cycles from a standard Li-ion battery: 200.
Universal clamps (holders) fiber: 0.25 mm, 0.9 mm, 3 mm, Drop Cable, etc.
Cleave length: from 5 to 16 mm. Ability to weld connectors SC, LC, etc.
Auto-adjustment of arc power. Free firmware update via the Internet.
Operating temperature range: from -10°С to +50°С. Weight with battery: 1.1 kg.
Russified menu. High protection against dust, moisture, shock and drops.
3 years of a full factory warranty with the replacement of the device for the period of repair.
Out of production. Recommended replacement: Fujikura 36S.
Tehencom LLC is the official distributor of the company Fujikura on the territory of Ukraine.
Fujikura Exclusive Distributor Certificate (65 KB)
When buying a set of equipment (for example welding machine+reflectometer) will receive an additional discount. All details can be found by phone: (044) 338-11-77, (097) 650-11-77, (095) 650-11-77, (093) 650-11-77.
DETAILED DESCRIPTION OF THE FUJIKURA 21S FIBER WELDING MACHINE
In 2015, the line of devices of the Japanese company Fujikura was replenished with a new model: Fujikura 21S. The novelty performs convergence of fibers using active (moving) V-shaped grooves, thanks to which it is positioned as the top model of the splicer for access networks, PON / FTTx, SCS and local fiber optic communication lines. While junior models: super economical Fujikura 12S and express Fujikura 19S designed for those who want to buy a very reliable professional welder for minimal money. For those who plan to work with trunk fiber optic communication lines with a length of more than 20 km, as well as for those who require the highest possible quality of welding in any conditions, we recommend choosing the oldest of the 4 models: Fujikura 80S.
If you are building local (urban area) optical networks, access networks, PON/FTTx (passive optical networks) or SCS (structured cabling systems) and are willing to pay a little extra (compared to the junior 12S model) for active convergence of fibers, then the new apparatus Fujikura 21S suits you perfectly. It is very convenient and compact (1.1 kg with battery), dust-moisture-shock-resistant, with very cheap electrodes (2 cents for welding) and a convenient compact case for transportation. But most importantly, the Fujikura 21S splicer is guaranteed to weld all types of modern fibers: single-mode SM (G.652/657), multi-mode MM (G.651), DSF (G.653), NZDSF (G.655), with minimal loss in its class: 0.03 dB (single-mode), 0.01 dB (multi-mode). The machine supports CDS from 20mm to 60mm and can be used to terminate fibers with Fujikura FuseConnect weldable connectors, as well as to splice Drop Cable.
The built-in battery of Fujikura 21S is enough for full 200 welds with heat shrink. In the memory of the device, 100 pre-configured welding modes and 30 heat shrink modes are standardly stitched, the parameters of which can be changed if necessary.
In Ukraine and the CIS, welding machines of the Japanese company Fujikura have been widely used since 1989 and have proven to be extremely reliable: they work for years, cook any type of fiber in severe weather conditions, not afraid of shaking during transportation and accidental drops, and in a critical situation they can be easily and quickly serviced in authorized service center in Kyiv. Fujikura 21S has high protection against dust and moisture and provides operation in a wide temperature range: from -10°С to +50°С.
Fiber alignment system with active (moving) V-grooves
The Fujikura 21S uses an active fiber alignment system with moving V-grooves. This fiber alignment system is less sensitive to dirt in the V-grooves because the machine can compensate for the mismatch in fiber position caused by dirt particles. In practice, this reduces the requirements for the qualification and accuracy of the welder and slightly increases the quality of the weld. In comparison, the average splicing loss for single-mode fibers with the Model 21S is 0.03 dB, while for machines with fixed V-grooves (models 12S and 19S) loss is 0.05 dB.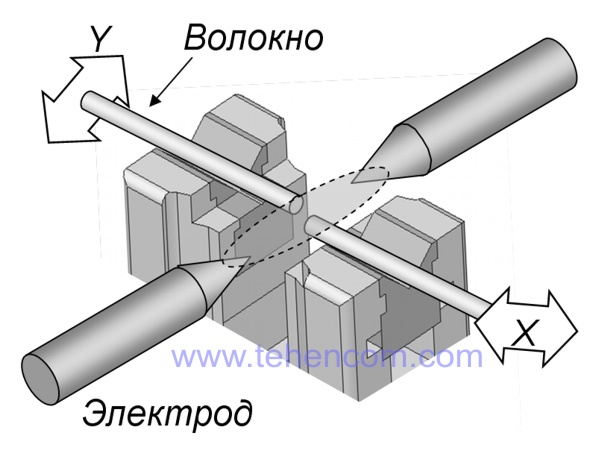 Universal clamps (holders) of optical fiber CLAMP-S21A for Fujikura 21S
The Fujikura 21S uses the new CLAMP-S21A clamps, which allow you to install and splice fibers in various types of buffer coating: bare fiber in varnish 0.25 mm, pigtails in sheath 0.9 mm, patch cords in sheath 3 mm, Drop Cable and other types.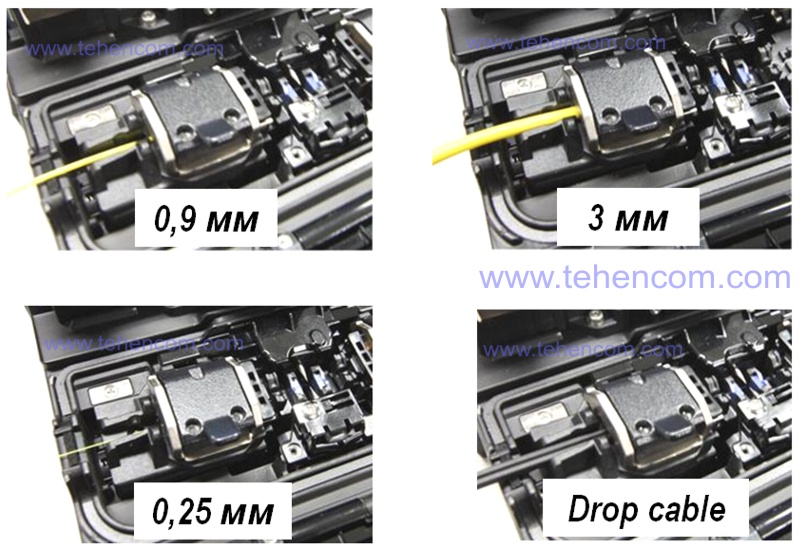 Bright Fujikura 21S LED backlight for comfortable working in dark environments
The Fujikura 21S splicer uses a very bright and voluminous LED backlight, which well illuminates the installation site of optical fibers. High-quality illumination of the device makes the work of the welder comfortable in places with insufficient lighting and allows you to easily and accurately place the fibers in the device.
Large and clear screen of the Fujikura 21S with improved visibility
The screen of the Fujikura 21S splicer displays a clear image of the fibers with a lot of details, which allows for accurate visual control of the condition of the spliced fibers, as well as the quality of the splice. In addition, the display of the 21S machine displays information about the fiber cleavage angles, estimated splice losses in dB, as well as a number of additional parameters. All menus of the welding machine are fully Russified (if necessary, you can also switch to English).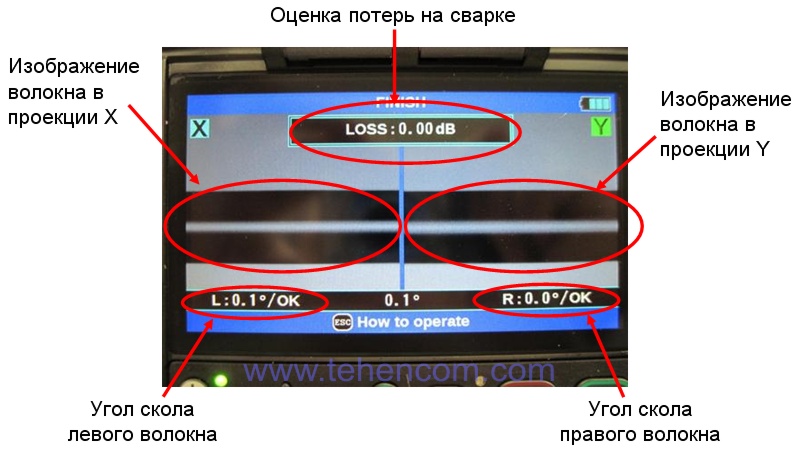 Low cost of operation Fujikura 21S and cheap consumables
With intensive work on fiber optic welding, the availability and cost of consumables (electrodes) is important. The new Fujikura 21S model uses an improved arc power auto-tuning algorithm and now it is possible to make 5000 welds. It uses electrodes ELCT2-12, which are constantly in stock, a pair costs $60, which, in terms of the price of one welding, is about 1 cent.
Fujikura 21S is the lightest and most compact welding machine in its class
The Fujikura 21S is the lightest and most compact in the active (moving) V-groove class. Its dimensions (without protective rubber bands): 120 x 189 x 72 mm, and the weight is only 1,140 gr. Despite the compact dimensions of the device, the charge of the built-in rechargeable battery is enough for 200 full-fledged heat shrink welding.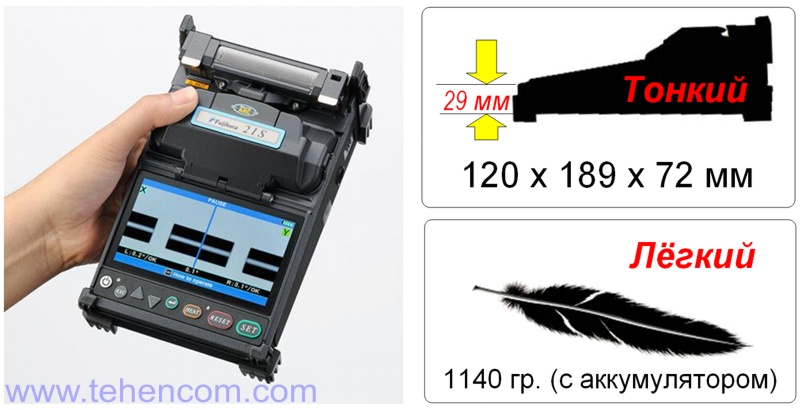 The device itself and accessories are placed in a compact case. The transport case provides convenient and environmentally protected transportation of the device, as well as the cleaver and additional accessories.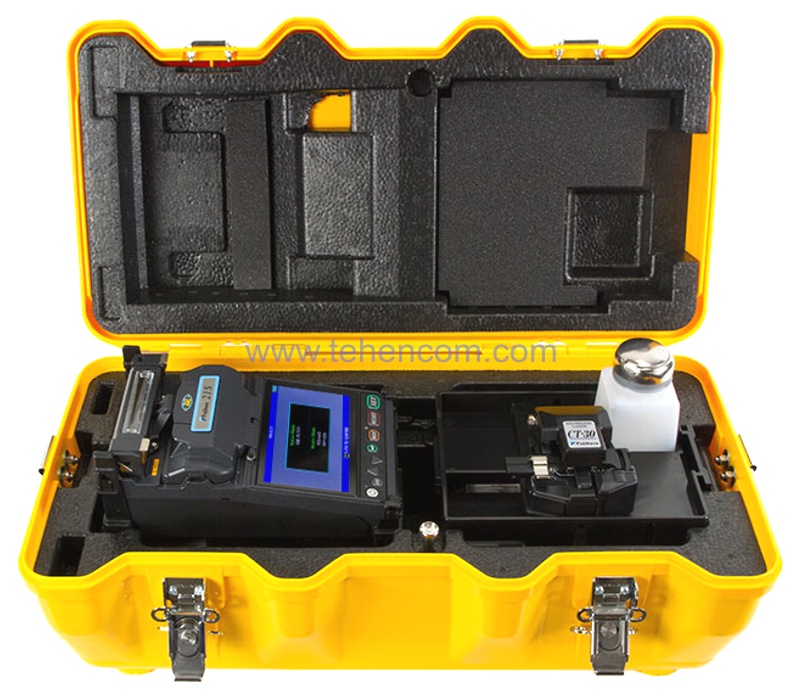 Also inside the case of the Fujikura 21S welding machine there is a modular mounting table on which you can install a welder, an alcohol dispenser and tools: a cleaver, a stripper, napkins, and more. The device is securely attached to the mounting table and cannot fall out of it. The mounting table itself is attached to the welder with a strong strap with two carabiners. Appearance of the device 21S fixed on the mounting table, as well as an example of its use is shown in the photo below.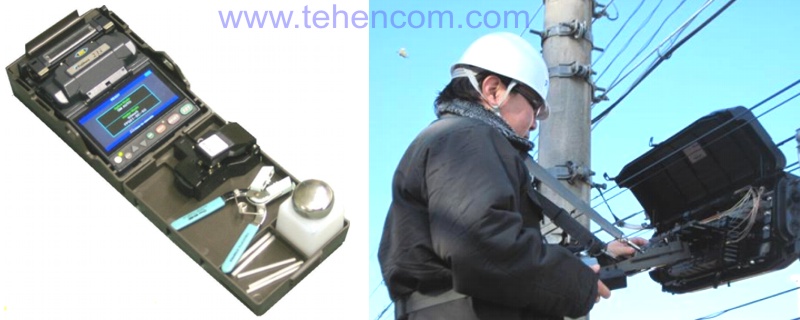 Specifications of Fujikura 21S Compact Fiber Splicer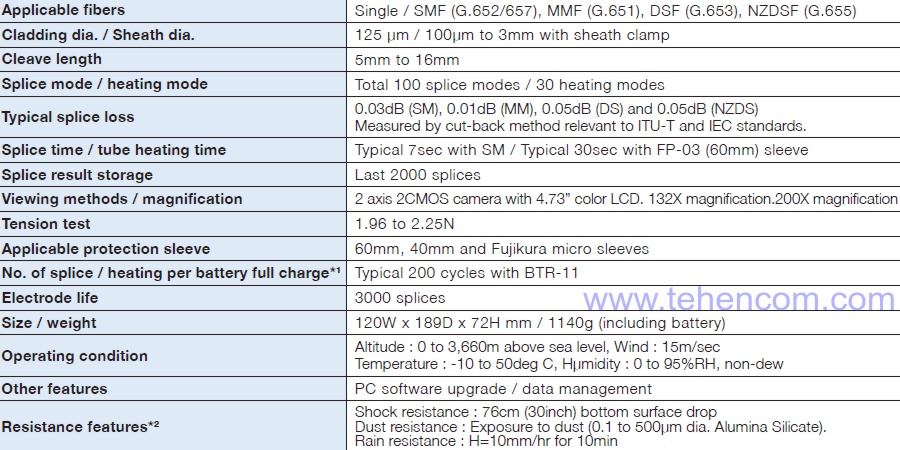 Three options for the delivery of the Fujikura 21S welding machine
Fujikura 21S Kit-A Plus (the most complete set):
- Fujikura 21S welding machine
- automatic cleaver CT-30A
- spare electrodes (2 pairs)ELCT2-12
- BTR-11 rechargeable battery (installed inside the machine)
- ADC-19 power adapter/charger adapter
- ACC-11 power cord
- CC-32 hard case
- AP-01 alcohol dispenser
- SC-01 screwdriver
- USB cable
- CD with software and documentation
- Quick reference guide
- Warranty card for 3 years warranty (2 years factory warranty + 1 year from Tehencom)
Fujikura 21S Kit-A Standard (simpler cleaver):
- Fujikura 21S welding machine
- semi-automatic cleaver CT-06A
- spare electrodes (1 pair)ELCT2-12
- BTR-11 rechargeable battery (installed inside the machine)
- ADC-19 power adapter/charger adapter
- ACC-11 power cord
- CC-32 hard case
- AP-01 alcohol dispenser
- SC-01 screwdriver
- USB cable
- CD with software and documentation
- Quick reference guide
- Warranty card for 3 years warranty (2 years factory warranty + 1 year from Tehencom)
Fujikura 21S Standard Kit (without cleaver):
- Fujikura 21S welding machine
- Spare electrodes (1 pair)ELCT2-12
- BTR-11 rechargeable battery (installed inside the machine)
- ADC-19 power adapter/charger adapter
- ACC-11 power cord
- CC-32 hard case
- AP-01 alcohol dispenser
- SC-01 screwdriver
- USB cable
- CD with software and documentation
- Quick reference guide
- Warranty card for 3 years warranty (2 years factory warranty + 1 year from Tehencom)
Options and accessories for the Fujikura 21S welding machine
Removable holders Fujikura FH-60 series for different types of fiber buffer:
- FH-60-250 (for bare fiber 0.25 mm)
- FH-60-900 (for pigtails with 0.9 mm sheath)
- FH-60-DC250 (for 0.25 mm bare fiber with DropCable jacket)
- FH-FC-20 (for patch cords in 2 mm sheath)
- FH-FC-30 (for patch cords in 3 mm sheath)
- FH-60-LT900 (for pigtails in free buffer 0.9 mm)