Automatic optical fiber cleaver Fujikura CT-30A
Product code: 1000832
Check availability
Discontinued
Add item to cart. Our specialist will coordinate with you the complete set, tell you the price and delivery time.
SHORT DESCRIPTION
Fujikura CT-30A is the main universal cleaver of the company Fujikura used with all types of welding machines. Performs fiber cleaving in one step and automatically pulls the remaining cleaved fiber into the container. Very reliable and convenient. When it is not possible to place the cleaver on a flat surface, it is possible to cleave the fiber even "on weight". The service life of the cleaver exceeds 10 years. Authorized service in Kyiv. For special applications, models CT-30B and CT-30 are available.

Main characteristics:
Cleavage of single and ribbon fibers (up to 12 fibers):
- single fiber, cleavage length from 6 to 20 mm (model CT-30A)
- single fiber, cleave length 16 mm (model CT-30B)
- 1 to 12 fibers, chip length 10 mm (model CT-30)
Knife life: 48,000 chips. Cleave angle error: 0.5 degrees.
Mechanism of automatic movement of a knife.
Integrated container for fiber scraps.
Minimum of working operations: a chip in one action.
See also: What is the difference between Fujikura cleavers? Which model to choose? Questions and answers.
DETAILED DESCRIPTION
The Fujikura CT-30A automatic optical fiber cleaver (as well as the CT-30B and CT-30 modifications) cleaves the fiber using a special blade CB-16 from high strength steel. Each blade position is rated for 1000 cleaves. The blade can be rotated in a circle and fixed in 16 different positions. In addition, as the blade wears, you can adjust its height in three different positions. Thus, the total resource of the blade is: 1000 * 16 * 3 = 48,000 chips. After the blade life is exhausted CB-16, it can be replaced with a new one.
Fujikura CT-30A cleaver included "Kit-A" Plus welding machines: Fujikura 80S, Fujikura 62S, Fujikura 22S and Fujikura 12S.
The principle of operation of optical fiber cleavers Fujikura CT-30A, CT-30B, CT-30

Specifications of Fujikura CT-30A, CT-30B, CT-30 Automatic Cleavers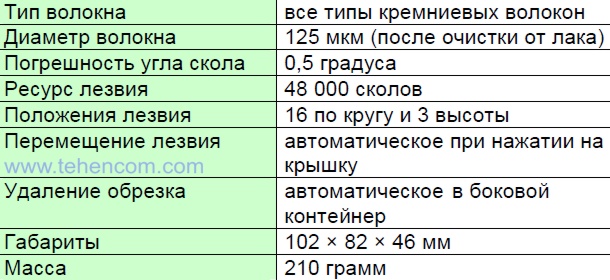 Fujikura CT-30A, CT-30B, CT-30 automatic optical fiber cleavers
- single fiber cleaver CT-30A (with attached fiber holder AD-30A)
or
- single fiber cleaver CT-30B (with attached fiber holder AD-30B)
or
- cleaver CT-30 (supplied without fiber holder - ordered separately)
- side cover SC-01
- mechanism for removing chipped fibers FC-02
- compact container for cleaved fibers FDB-02
- enlarged container for chipped fibers FDB-03
- miniature hex wrench HEX-01
- case CC-21
- warranty: 1 year (it is possible to extend the warranty period up to 3 years)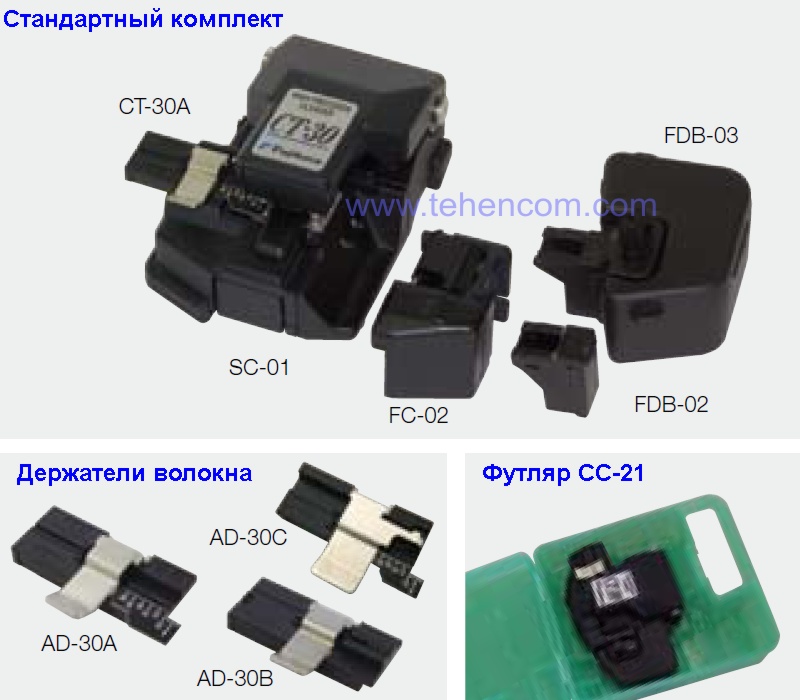 Possible configurations of automatic precision optical fiber cleavers Fujikura CT-30A, CT-30B, CT-30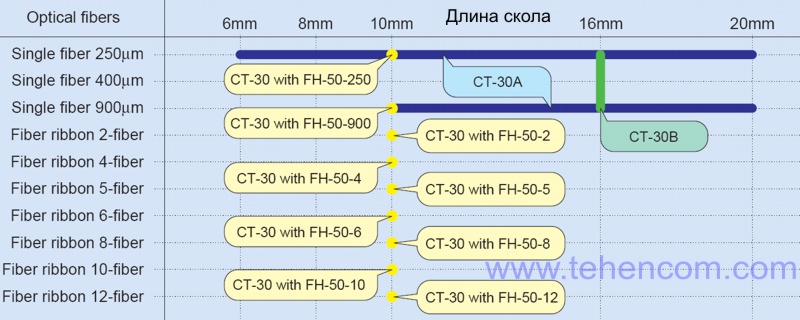 Additional accessories for Fujikura CT-30A, CT-30B, CT-30 optical fiber cleavers
Removable holders Fujikura FH-60 series for different types of fiber buffer:
- FH-60-250 (for bare fiber 0.25 mm)
- FH-60-900 (for pigtails with 0.9 mm sheath)
- FH-60-DC250 (for 0.25 mm bare fiber with DropCable jacket)
- FH-FC-20 (for patch cords in 2 mm sheath)
- FH-FC-30 (for patch cords in 3 mm sheath)
- FH-60-LT900 (for pigtails in free buffer 0.9 mm)
Other accessories for Fujikura CT-30A, CT-30B, CT-30 cleavers: