A series of optical power meters for PON networks EXFO PPM-350B, 352B
Product code: 1000879
On order
Add item to cart. Our specialist will coordinate with you the complete set, tell you the price and delivery time.
MAIN CHARACTERISTICS
EXFO PPM-352B power meter (PPM-350B series) for PON, specially optimized for maintenance and commissioning of FTTx networks. This simple instrument measures the optical power of voice, video and data signals simultaneously. What's more, it is equipped with Pass/Fail indicators and requires little or no special training in fiber optics to operate.
The device is made in a robust case, in one- or two-port version. The patented design allows you to connect the meter to a break in the communication line without interfering with the normal operation of the OLT and ONT. In this case, optical power measurements can be made for all wavelengths of 1310, 1490 and 1550 nm simultaneously.
The PPM-350B is designed to operate on ITU 983 (A, B, C), ITU 984 and IEEE 802.3a networks at speeds of 155 Mbps, 622 Mbps, 1 Gbps and 2.5 Gbps for synchronous and asynchronous signals.
FTTx Testing Solution
This instrument is part of EXFO's FTTx series. The device allows testing passive optical networks (PON) at three wavelengths (1310, 1490 and 1550 nm), which are used in FTTH (fiber-to-the-home) and FTTP (fiber-to-the-premises) networks according to the ITU standard -T G 983.3.

Technical features of power meter for PON networks EXFO PPM-350B, PPM-352B
- Working wavelengths 1310, 1490 and 1550 nm.
- Designed for speeds of 155 and 622 Mbps, 1 and 2.5 Gbps.
- One- and two-port execution, models with normal and expanded functionality.
- Ability to measure the signal on the working line (insertion into the gap between OLT and ONT).
- Durable body.
- Possibility of successful work with the device by untrained personnel.
Specifications of power meter for PON EXFO networks PPM-350B, PPM-352B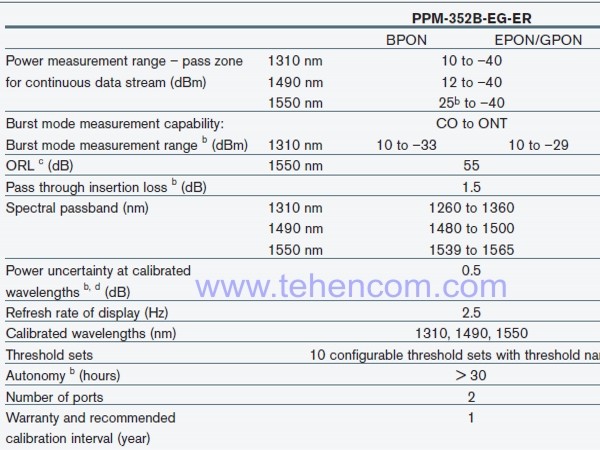 Warranty:
1 year. It is possible to extend the warranty period up to 3 years.