Tektronix DMM4040 and 4050 6.5 Digit Laboratory Multimeter Series
Product code: 1000701
On order
Add item to cart. Our specialist will coordinate with you the complete set, tell you the price and delivery time.
SHORT DESCRIPTION
Professional multimeters Tektronix DMM4040 и DMM4050 American company Keithley - contain the full range of features you would expect from a laboratory multimeter with 6.5 digit measurement resolution. In addition to a wide range of features, the Tektronix DMM4050 model also allows you to measure temperature and capacitance.
Main characteristics:
Resolution: 6.5 bits.
Basic Accuracy (DCV): 0.004% (Model DMM4040).
Basic Accuracy (DCV): 0.003% (Model DMM4050).
Voltage measurement range: 100 nV to 1000 V.
Current measurement range: 100 pA to 10 A.
Resistance measurement range: 10 μΩ to 1 GΩ.
Speed: 1000 measurements per second. Diode test and continuity test, frequency and period measurement, 4-wire resistance measurement (2x4), Trendplot automatic data recording mode, measurement statistics, histogram plotting mode. Temperature and capacitance measurement (DMM4050 only).
National Instrument LabVIEW SignalExpress TE PC software.
Interfaces: USB (for flash drive), IEEE-488.2 (GPIB), Ethernet, RS-232 plus USB to RS-232 adapter as standard. Weight: 3.6 kg.
Basic laboratory multimeters for a wide range of applications
DETAILED DESCRIPTION
Multimeters Tektronix DMM4040 и DMM4050 are accurate (6.5 digits) and functional laboratory instruments that are successfully used in thousands of laboratories and manufacturing plants around the world. The Tectronix DMM4050 model features the highest accuracy in the range (0.003% per 1 year), as well as the ability to measure temperature and electric capacitance.
Tektronix DMM4040 and DMM4050 multimeters feature an intuitive graphical display



LabVIEW SignalExpress PC software included with Tektronix DMM4040 and DMM4050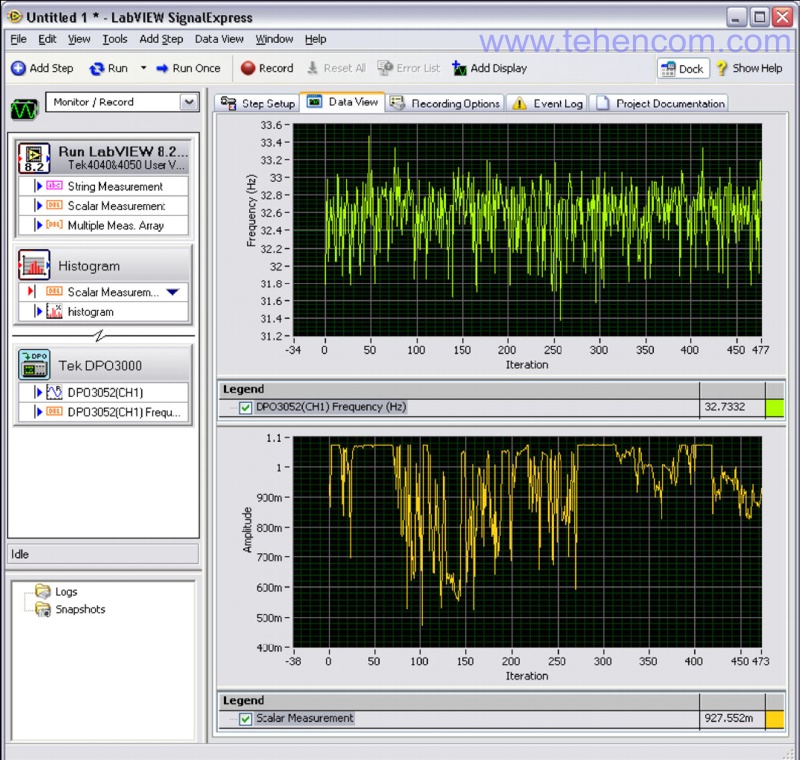 Example of simultaneous data recording from Tektronix DMM4050 multimeter and oscilloscope
Tektronix DPO3052 using SignalExpress software (included)
Tektronix DMM4040 and DMM4050 Laboratory Multimeters Brief Specifications

Detailed specifications for Tektronix DMM4040 and DMM4050 multimeters (22 pages; 547 KB)
Tektronix DMM4040 and DMM4050 Laboratory Multimeters Package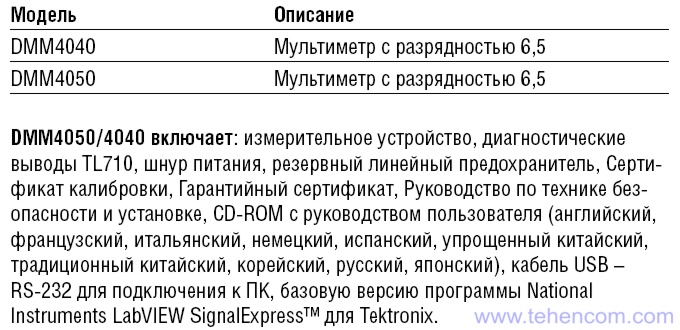 Options and accessories for Tektronix DMM4040 and DMM4050 laboratory multimeters