Tektronix DMM4020 Budget 5.5 Digit Lab Multimeter
Product code: 1000700
On order
Add item to cart. Our specialist will coordinate with you the complete set, tell you the price and delivery time.
SHORT DESCRIPTION
Budget multimeter Tektronix DMM4020 American company Tektronix is a well-equipped low-cost multimeter with a measurement resolution of 5.5 digits. The Tectronix DMM4020 features high voltage (1 μV), current (1 nA) and resistance (1 mΩ) resolution, as well as frequency and DC leakage measurement functions.
Main characteristics:
Resolution: 5.5 bits.
Basic Accuracy (DCV): 0.018%.
Voltage measurement range: 1 μV to 1000 V.
Current measurement range: 1 nA to 10 A.
Resistance measurement range: 1 mΩ to 100 MΩ.
Speed: 100 measurements per second. Diode and continuity test, frequency measurement, 4-wire resistance measurement (2x4), DC leakage measurement, six dedicated buttons for quick access to instrument settings, limit comparison mode for pass/fail tests .
National Instrument LabVIEW SignalExpress TE Limited Edition PC software.
Interfaces: RS-232 plus USB to RS-232 adapter as standard. Weight: 2.1 kg.
Budget multimeter with good accuracy and feature set
DETAILED DESCRIPTION
Inexpensive and functional multimeter Tektronix DMM4020 will provide high accuracy of measurements for many years. An intuitive display, rich built-in features, and PC software combine with the DMM4020 and Tektronix' technical innovations in precision low-frequency measurements.
The Tektronix DMM4020 multimeter is equipped with a good and clear display

LabVIEW SignalExpress PC software included with Tektronix DMM4020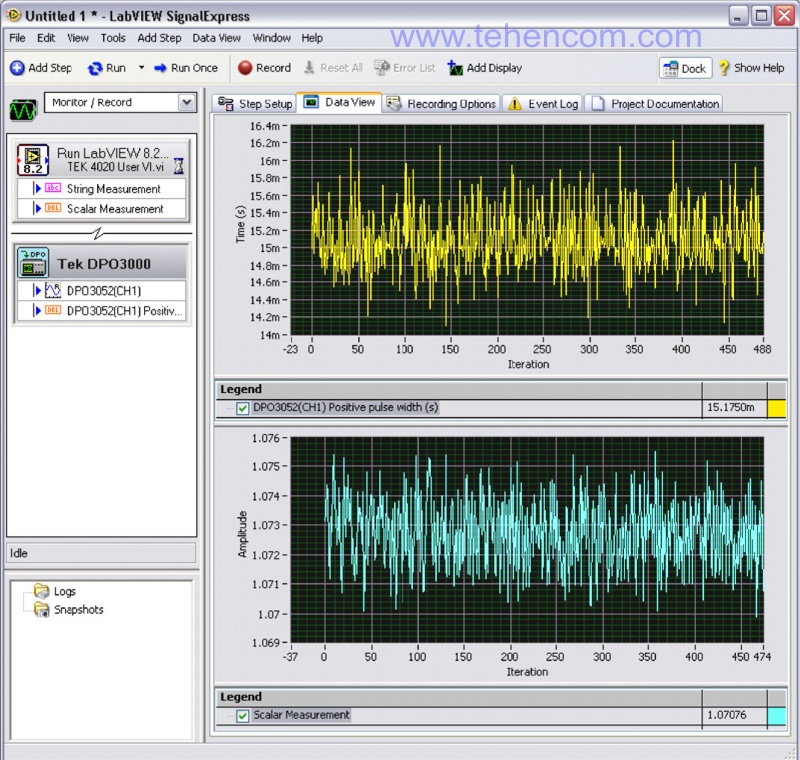 An example of simultaneous data recording from a Tektronix DMM4020 multimeter and an oscilloscope
Tektronix DPO3052 using SignalExpress software (included)
Tektronix DMM4020 Laboratory Multimeter Brief Specifications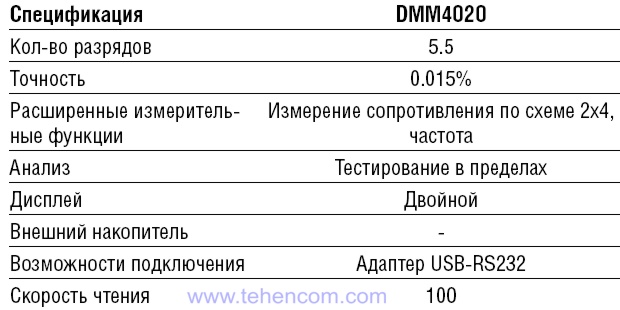 Tektronix DMM4020 Laboratory Multimeter Detailed Specifications (14 pages; 485 KB)
Tektronix DMM4020 Laboratory Multimeter Package Contents

Options and Accessories for Tektronix DMM4020 Laboratory Multimeter